Tomato, Goat Cheese & Mozzarella Basil Tart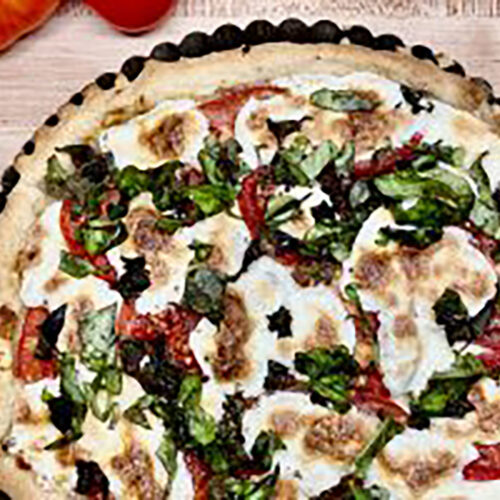 Tomato, Goat Cheese and Mozzarella Basil Tart
Ingredients
Ingredients for the crust

1 1/4

c

all purpose flour

1

stick very cold unslated butter

cut into 1/2-inch cubes

3

tbsp

ice water

1

tbsp

vodka

tsp

kosher salt

Ingredients for the filling

3

Tbsp

The Humble Goat Goat Cheese

1

Tbsp

Dijon Mustard

2

cups

of sliced tomatoes

1 6

oz

log sliced mozzarella cheese

1

Tbsp

fresh basil

Salt and pepper to taste
Instructions
Instructions for the tart crust

Preheat oven to 375. Add flour and salt to a food processor. Pulse 2 to 3 times until combined.

Chop butter into rough cubes and scatter over flour and pulse 4 to 5 times until flour is evenly distributed. (Dough should look crumbly.)

Add 3 Tbsps ice water through the tube pulsing once each time. The crumbs should begin to form larger clusters. Add the vodka and continue to pulse until the dough comes together in a ball and gets awkward spinning in the machine.

Remove dough from the bowl and place in a mound on a clean surface. Work the dough just enough to form a ball – create a disc and wrap with plastic wrap and refrigerate for at least 1 hour and up to 2 days (If I am in a hurry, which I always am, I will freeze the dough for 30 minutes)

On a lightly floured surface, roll out one dough disc to a 15-inch round circle about 1/8 inch high. Check for size by inverting tart pan over dough round. Look for a 1-inch edge around the tart pan. Carefully press the dough into the pan mounding the sides up a bit higher than the pan by folding over excess dough. Press the tines of a fork into the pastry down to the pan about 12 times with a fork to "dock" the crust. Place tart in the freezer while you make the filling to get set for 15 minutes. Transfer the tart pan to a baking sheet. Set in oven and par-bake at 375 until the crust is dry and set up and starting to pull from the sides, 12-15 minutes.

Instructions for the filling

Spread the room temperature goat cheese on the warm par-baked crust with a spatula.

Spread the mustard over the goat cheese

Layer the tomatoes on top of the mustard crust

Salt and pepper the tomatoes

Tear the Mozerella into chunks and scatter over the tart

Tear the basil and sprinkle over the tart

Bake in a 450-degree oven for 20 minutes or until the tart is browned and the cheese is melted and the tomatoes have released their juices.