Lemon Cheesecake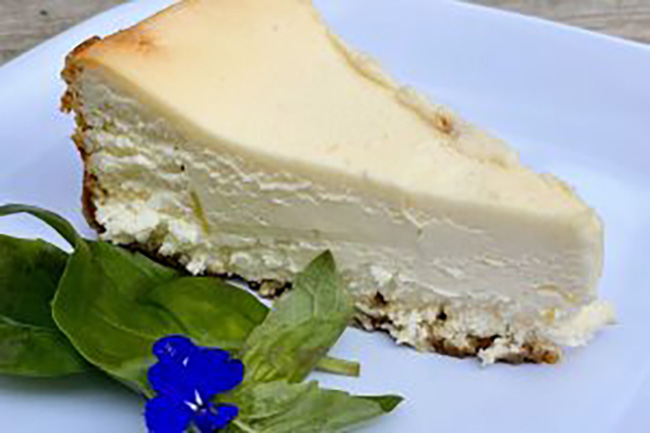 Lemon Cheesecake
Ingredients
Crust

2 1/2

cups

gingersnap crumbs

8

Tbsp

melted butter

plus extra to butter the pan

1/4

cup

sugar

1

tsp

salt

Cheesecake

2 - 8

oz

packages cream cheese

1 - 8

oz

package plain Humble Goat cheese

2 - 4

oz

packages Lemon Cupcake Humble Goat Cheese

8

oz

Mascarpone

1/4

cup

sour cream

1

cup

sugar

Zest and juice from one lemon

be sure to zest it before cutting in

1/4

cup

heavy cream

4

eggs

1

tsp

vanilla

Instructions
Instructions
Preheat oven to 350 degrees F.

To make the crust, pulse gingersnaps in a food processor until finely ground.

In a bowl, add gingersnaps crumbs, melted butter, sugar, and salt

and stir until combined.

Butter a 10-inch Springform pan. Press the crumbs into the bottom and sides of the pan coming up about halfway up the sides of the Springform pan.

To make the filling, beat the cream cheese, the Lemon Cupcake, and plain Humble Goat, Mascarpone, sour cream, and heavy cream in the bowl of an electric stand mixer with the paddle attachment until light and fluffy.

Add the eggs, one at a time, beating after each egg is added, until thoroughly combined. Beat in the sugar, lemon juice, zest, and vanilla until just combined.

Pour the filling into the prepared crust.

Place cheesecake on a baking sheet in the preheated oven and bake for 55 to 60 minutes. Rotate the baking sheet halfway through the cooking process. If the cheesecake starts to color, tent the springform pan with aluminum foil.

When the cheesecake is done, turn off and prop open the oven to let it cool for 60 minutes.

Remove the partially cooled cheesecake from the oven and let

it cool completely before serving, as it continues to set as it cools. It is

best to refrigerate overnight before serving.
Notes
Cheesecakes can crack easily. Here are some things that can help:
Avoid over mixing the batter. Over mixing incorporates too much air, which makes the cheesecake rise during baking (the way a souffle does), then collapse as it cools. As the cheesecake cools, it contracts, and if the edges remain stuck to the pan, cracks form.
Leaving the oven door open to let the cheesecake cool slowly helps to prevent the cheesecake from cracking (I was impatient here and refrigerated too soon)
Also, avoid opening the oven door while the cheesecake is baking inside. Big cracks are often caused by drafts and temperature changes.